general_search_page-panel_pane_1 | views_panes
89 Janelia Publications
Showing 1-10 of 89 results
Making inferences about the computations performed by neuronal circuits from synapse-level connectivity maps is an emerging opportunity in neuroscience. The mushroom body (MB) is well positioned for developing and testing such an approach due to its conserved neuronal architecture, recently completed dense connectome, and extensive prior experimental studies of its roles in learning, memory and activity regulation. Here we identify new components of the MB circuit in , including extensive visual input and MB output neurons (MBONs) with direct connections to descending neurons. We find unexpected structure in sensory inputs, in the transfer of information about different sensory modalities to MBONs, and in the modulation of that transfer by dopaminergic neurons (DANs). We provide insights into the circuitry used to integrate MB outputs, connectivity between the MB and the central complex and inputs to DANs, including feedback from MBONs. Our results provide a foundation for further theoretical and experimental work.
View Publication Page
The connectome provides large scale connectivity and morphology information for the majority of the central brain of . Using this data set, we provide a complete description of the olfactory system, covering all first, second and lateral horn-associated third-order neurons. We develop a generally applicable strategy to extract information flow and layered organisation from connectome graphs, mapping olfactory input to descending interneurons. This identifies a range of motifs including highly lateralised circuits in the antennal lobe and patterns of convergence downstream of the mushroom body and lateral horn. Leveraging a second data set we provide a first quantitative assessment of inter- versus intra-individual stereotypy. Comparing neurons across two brains (three hemispheres) reveals striking similarity in neuronal morphology across brains. Connectivity correlates with morphology and neurons of the same morphological type show similar connection variability within the same brain as across two brains.
View Publication Page
Visual systems can exploit spatial correlations in the visual scene by using retinotopy. However, retinotopy is often lost, such as when visual pathways are integrated with other sensory modalities. How is spatial information processed outside of strictly visual brain areas? Here, we focused on visual looming responsive LC6 cells in , a population whose dendrites collectively cover the visual field, but whose axons form a single glomerulus-a structure without obvious retinotopic organization-in the central brain. We identified multiple cell types downstream of LC6 in the glomerulus and found that they more strongly respond to looming in different portions of the visual field, unexpectedly preserving spatial information. Through EM reconstruction of all LC6 synaptic inputs to the glomerulus, we found that LC6 and downstream cell types form circuits within the glomerulus that enable spatial readout of visual features and contralateral suppression-mechanisms that transform visual information for behavioral control.
View Publication Page
Aggressive social interactions are used to compete for limited resources and are regulated by complex sensory cues and the organism's internal state. While both sexes exhibit aggression, its neuronal underpinnings are understudied in females. Here, we identify a population of sexually dimorphic aIPg neurons in the adult central brain whose optogenetic activation increased, and genetic inactivation reduced, female aggression. Analysis of GAL4 lines identified in an unbiased screen for increased female chasing behavior revealed the involvement of another sexually dimorphic neuron, pC1d, and implicated aIPg and pC1d neurons as core nodes regulating female aggression. Connectomic analysis demonstrated that aIPg neurons and pC1d are interconnected and suggest that aIPg neurons may exert part of their effect by gating the flow of visual information to descending neurons. Our work reveals important regulatory components of the neuronal circuitry that underlies female aggressive social interactions and provides tools for their manipulation.
View Publication Page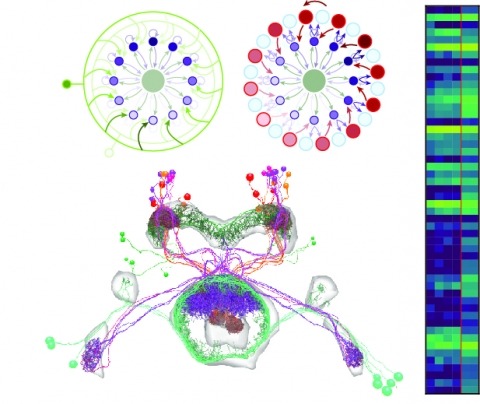 Neural representations of head direction (HD) have been discovered in many species. Theoretical work has proposed that the dynamics associated with these representations are generated, maintained, and updated by recurrent network structures called ring attractors. We evaluated this theorized structure-function relationship by performing electron-microscopy-based circuit reconstruction and RNA profiling of identified cell types in the HD system of Drosophila melanogaster. We identified motifs that have been hypothesized to maintain the HD representation in darkness, update it when the animal turns, and tether it to visual cues. Functional studies provided support for the proposed roles of individual excitatory or inhibitory circuit elements in shaping activity. We also discovered recurrent connections between neuronal arbors with mixed pre- and postsynaptic specializations. Our results confirm that the Drosophila HD network contains the core components of a ring attractor while also revealing unpredicted structural features that might enhance the network's computational power.
View Publication Page
Large scientific projects in genomics and astronomy are influential not because they answer any single question but because they enable investigation of continuously arising new questions from the same data-rich sources. Advances in automated mapping of the brain's synaptic connections (connectomics) suggest that the complicated circuits underlying brain function are ripe for analysis. We discuss benefits of mapping a mouse brain at the level of synapses.
View Publication Page
The neural circuits responsible for behavior remain largely unknown. Previous efforts have reconstructed the complete circuits of small animals, with hundreds of neurons, and selected circuits for larger animals. Here we (the FlyEM project at Janelia and collaborators at Google) summarize new methods and present the complete circuitry of a large fraction of the brain of a much more complex animal, the fruit fly Drosophila melanogaster. Improved methods include new procedures to prepare, image, align, segment, find synapses, and proofread such large data sets; new methods that define cell types based on connectivity in addition to morphology; and new methods to simplify access to a large and evolving data set. From the resulting data we derive a better definition of computational compartments and their connections; an exhaustive atlas of cell examples and types, many of them novel; detailed circuits for most of the central brain; and exploration of the statistics and structure of different brain compartments, and the brain as a whole. We make the data public, with a web site and resources specifically designed to make it easy to explore, for all levels of expertise from the expert to the merely curious. The public availability of these data, and the simplified means to access it, dramatically reduces the effort needed to answer typical circuit questions, such as the identity of upstream and downstream neural partners, the circuitry of brain regions, and to link the neurons defined by our analysis with genetic reagents that can be used to study their functions.
Note: In the next few weeks, we will release a series of papers with more involved discussions. One paper will detail the hemibrain reconstruction with more extensive analysis and interpretation made possible by this dense connectome. Another paper will explore the central complex, a brain region involved in navigation, motor control, and sleep. A final paper will present insights from the mushroom body, a center of multimodal associative learning in the fly brain.
View Publication Page
Nervous systems contain sensory neurons, local neurons, projection neurons, and motor neurons. To understand how these building blocks form whole circuits, we must distil these broad classes into neuronal cell types and describe their network connectivity. Using an electron micrograph dataset for an entire Drosophila melanogaster brain, we reconstruct the first complete inventory of olfactory projections connecting the antennal lobe, the insect analog of the mammalian olfactory bulb, to higher-order brain regions in an adult animal brain. We then connect this inventory to extant data in the literature, providing synaptic-resolution "holotypes" both for heavily investigated and previously unknown cell types. Projection neurons are approximately twice as numerous as reported by light level studies; cell types are stereotyped, but not identical, in cell and synapse numbers between brain hemispheres. The lateral horn, the insect analog of the mammalian cortical amygdala, is the main target for this olfactory information and has been shown to guide innate behavior. Here, we find new connectivity motifs, including axo-axonic connectivity between projection neurons, feedback, and lateral inhibition of these axons by a large population of neurons, and the convergence of different inputs, including non-olfactory inputs and memory-related feedback onto third-order olfactory neurons. These features are less prominent in the mushroom body calyx, the insect analog of the mammalian piriform cortex and a center for associative memory. Our work provides a complete neuroanatomical platform for future studies of the adult Drosophila olfactory system.
View Publication Page
Different types of Drosophila dopaminergic neurons (DANs) reinforce memories of unique valence and provide state-dependent motivational control [1]. Prior studies suggest that the compartment architecture of the mushroom body (MB) is the relevant resolution for distinct DAN functions [2, 3]. Here we used a recent electron microscope volume of the fly brain [4] to reconstruct the fine anatomy of individual DANs within three MB compartments. We find the 20 DANs of the γ5 compartment, at least some of which provide reward teaching signals, can be clustered into 5 anatomical subtypes that innervate different regions within γ5. Reconstructing 821 upstream neurons reveals input selectivity, supporting the functional relevance of DAN sub-classification. Only one PAM-γ5 DAN subtype (γ5fb) receives direct recurrent input from γ5β'2a mushroom body output neurons (MBONs) and behavioral experiments distinguish a role for these DANs in memory revaluation from those reinforcing sugar memory. Other DAN subtypes receive major, and potentially reinforcing, inputs from putative gustatory interneurons or lateral horn neurons, which can also relay indirect feedback from the MB. We similarly reconstructed the single aversively reinforcing PPL1-γ1pedc DAN. The γ1pedc DAN inputs are mostly different to those of γ5 DANs and are clustered onto distinct branches of its dendritic tree, presumably separating its established roles in aversive reinforcement and appetitive motivation [5, 6]. Additional tracing identified neurons that provide broad input to γ5, β'2a and γ1pedc DANs suggesting that distributed DAN populations can be coordinately regulated. These connectomic and behavioral analyses therefore reveal additional complexity of dopaminergic reinforcement circuits between and within MB compartments.
View Publication Page
The Mushroom Body (MB) is the primary location of stored associative memories in the Drosophila brain. We discuss recent advances in understanding the MB's neuronal circuits made using advanced light microscopic methods and cell-type-specific genetic tools. We also review how the compartmentalized nature of the MB's organization allows this brain area to form and store memories with widely different dynamics.
View Publication Page