custom | custom
facetapi-Q2b17qCsTdECvJIqZJgYMaGsr8vANl1n | block
facetapi-W9JlIB1X0bjs93n1Alu3wHJQTTgDCBGe | block
facetapi-PV5lg7xuz68EAY8eakJzrcmwtdGEnxR0 | block
facetapi-021SKYQnqXW6ODq5W5dPAFEDBaEJubhN | block
general_search_page-panel_pane_1 | views_panes
3 Publications
Showing 1-3 of 3 results
The dense connectivity in the brain means that one neuron's activity can influence many others. To observe this interconnected system comprehensively, an aspiration within neuroscience is to record from as many neurons as possible at the same time. There are two useful routes toward this goal: one is to expand the spatial extent of functional imaging techniques, and the second is to use animals with small brains. Here we review recent progress toward imaging many neurons and complete populations of identified neurons in small vertebrates and invertebrates.
View Publication Page
The identification of active neurons and circuits in vivo is a fundamental challenge in understanding the neural basis of behavior. Genetically encoded calcium (Ca(2+)) indicators (GECIs) enable quantitative monitoring of cellular-resolution activity during behavior. However, such indicators require online monitoring within a limited field of view. Alternatively, post hoc staining of immediate early genes (IEGs) indicates highly active cells within the entire brain, albeit with poor temporal resolution. We designed a fluorescent sensor, CaMPARI, that combines the genetic targetability and quantitative link to neural activity of GECIs with the permanent, large-scale labeling of IEGs, allowing a temporally precise "activity snapshot" of a large tissue volume. CaMPARI undergoes efficient and irreversible green-to-red conversion only when elevated intracellular Ca(2+) and experimenter-controlled illumination coincide. We demonstrate the utility of CaMPARI in freely moving larvae of zebrafish and flies, and in head-fixed mice and adult flies.
View Publication Page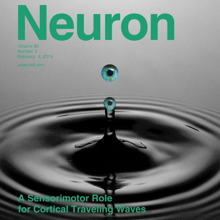 The nature of nervous system function and development is inherently global, since all components eventually influence one another. Networks communicate through dense synaptic, electric, and modulatory connections and develop through concurrent growth and interlinking of their neurons, processes, glia, and blood vessels. These factors drive the development of techniques capable of imaging neural signaling, anatomy, and developmental processes at ever-larger scales. Here, we discuss the nature of questions benefitting from large-scale imaging techniques and introduce recent applications. We focus on emerging light-sheet microscopy approaches, which are well suited for live imaging of large systems with high spatiotemporal resolution and over long periods of time. We also discuss computational methods suitable for extracting biological information from the resulting system-level image data sets. Together with new tools for reporting and manipulating neuronal activity and gene expression, these techniques promise new insights into the large-scale function and development of neural systems.
View Publication Page