node_title | node_title
Joint Graduate Program in Neuroscience
node:field_slogan | entity_field
Don't just study great science. Live it. Take advantage of an exceptional opportunity to experience the benefits of working in the world-class research environment of Janelia and at The Johns Hopkins University.
node_body | node_body
The Janelia Joint Graduate Program is a fully-funded, collaborative PhD program for independent, committed graduate scholars in partnership with the Solomon Snyder Department of Neuroscience at The Johns Hopkins University.
Graduate scholars in the program spend their first year at the partner university and then reside at Janelia for the remaining years of the program to conduct their thesis research. Degrees are granted by Johns Hopkins. Scholars have two mentors, a research mentor at Janelia and a programmatic mentor at Johns Hopkins that typically chairs the scholar's thesis committee.
Graduate scholars conduct research in the following fields:
Behavioral & Systems Neuroscience
Cellular & Molecular Neuroscience
Evolution & Genetics
Instrumentation & Computational Tool Development
Neuronal Cell Biology
Optical Physics & Imaging
Structural Biology & Biochemistry
Theory & Computational Neuroscience
The program is intentionally small, which allows us to meet each scholar's individual needs. Graduate scholars benefit from considerable personal attention in the laboratory to support their training and professional development. Graduate scholar research is enhanced by Janelia's extensive Shared Resources, the ease of collaboration across research areas, and the opportunity to work directly with tool builders to generate new biosensors, microscopes, electronics, computational tools, and more. Additionally, scholars can participate in many conferences hosted at Janelia, mentor summer interns, help host the annual boot camp for all incoming Department of Neuroscience students, and attend the Department of Neuroscience annual retreat.
If you have any questions about the program, the application or the application process, please email Erik Snapp at snappe@janelia.hhmi.org
janelia7_blocks-janelia7_tertiary_menu | block
janelia7_blocks-janelia7_block_right_hand_rail | block
Featured Student: Amrita Singh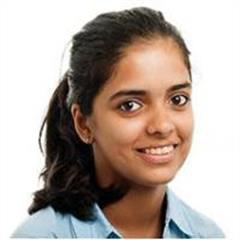 I was born and raised in Mumbai, India. I attended the Indian Institute of Technology of Kanpur for my undergraduate degree in Biological Sciences and Bio-Engineering. I was surrounded by many engineers, but no scientists, and I realized that I wanted to do basic science. I had read some popular science books about neuroscience that I found really fascinating and wanted to pursue this further.
When I got here, I realized that this place is extremely special in that it's very different from other research institutes. Janelia felt more like industry than a typical college or university and is optimized to do good research. That's the main goal and focus. Everything is based on that goal, from the architecture and the social structures in the lab to the cutting-edge equipment. I also really enjoyed the project I worked on and had a wonderful mentor who helped guide me in the work that I was doing that summer.
I'm using voltage imaging and retrospective multiplexed fluorescence in situ hybridization (FISH) to understand the relationship between activity and gene expression of interneurons in motor cortex. The big question that I'm trying to partially answer in my project is "How does the activity neurons relate to gene expression?"