node_title | node_title
node_body | node_body
Students interested in the Joint Graduate Program must apply through both the Janelia application system and the partner university's application system.
Program Applications
We are currently not accepting applications. The application system will reopen in fall 2017.
Application Materials
All candidates submit the following materials through Janelia's online application system:
Curriculum vitae, including contact information, education and training, positions held, honors, publications, patents, and any additional scientific or academic materials.

Research proposal: A hypothetical research project for your PhD work, based on the labs you are interested in at Janelia. The proposal will be used to evaluate potential as a scientist.
Statement of research experience.
Undergraduate transcripts. If your institution does not issue transcripts, please provide a list of all college or university courses you have taken, dates completed, and grades/scores.
Names and contact information for three references who can best speak to your potential as a research scientist.
GRE scores are required for Johns Hopkins University applicants.
TOEFL or IELTS scores for students from non-English-speaking countries.
The names of three to five Janelia scientists you would like to work with.
The names of one to three supervisors from the partner school you would like to work with.
A list of your presentations, publications, or patents.
Partner University Application Information
The Johns Hopkins University (JHU)
Janelia is partnered directly with The Johns Hopkins University (JHU) Neuroscience Department. There are two mechanisms by which students can join the Janelia-JHU joint graduate program.
Graduate scholars apply to both the Janelia and JHU Neuroscience programs in the fall, and participate in interviews at Janelia in February. These students are informed of their acceptance to the joint Janelia-JHU program at the beginning of March. They will do their first year at JHU and conduct their thesis research at Janelia. Students will receive a PhD in Neuroscience.
Students accepted into the JHU Neuroscience PhD program,who have not applied to the Janelia program, can visit the Janelia campus in the fall to learn about the graduate program, potential research opportunities, and schedule a summer rotation. Students accepted into the JHU program without applying to Janelia may also elect to conduct a summer laboratory rotation at Janelia at the end of their first year. Upon agreement by the student, advisors, and program directors, the student may join the Janelia-JHU program to conduct their PhD research.
Johns Hopkins Neuroscience Graduate Students
Selection and Evaluation Process
Applicants are evaluated on their potential as a research scientist and their fit with the Janelia scientific culture. Approximately 10 students are brought to Janelia in February to present their previous research and participate in individual interviews with Janelia Lab Heads. Candidates also get a chance to meet current graduate scholars and other members of the Janelia community.
janelia7_blocks-janelia7_tertiary_menu | block
janelia7_blocks-janelia7_block_right_hand_rail | block
Nick Sofroniew, Former Graduate Scholar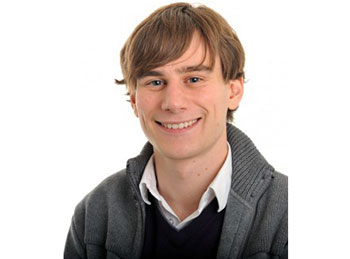 "What really attracted me to Janelia was the emphasis on the science, and the idea that the administration was willing to be flexible to allow for decisions that are best for getting science done. They were really there to help you rather than to impose rules and regulations that had to be obeyed for other reasons."