node_title | node_title
node:field_slogan | entity_field
Don't just study great science. Live it. Take advantage of an exceptional opportunity to experience the benefits of working in the world-class research environment of Janelia and at The Johns Hopkins University.
node_body | node_body
The Janelia Joint Graduate Program is a fully-funded, collaborative PhD program for independent, committed graduate scholars in partnership with The Johns Hopkins University.
Graduate scholars in the program spend their first year at the partner university and then reside at Janelia for the remaining years of the program to conduct their thesis research. Degrees are granted by Johns Hopkins. Scholars have two supervisors, one at Janelia and the other at Johns Hopkins.
Graduate scholars conduct research in the following fields:
Behavioral & Systems Neuroscience
Cellular & Molecular Neuroscience
Evolution & Genetics
Instrumentation & Computational Tool Development
Neuronal Cell Biology
Optical Physics & Imaging
Structural Biology & Biochemistry
Theory & Computational Neuroscience
The program is intentionally small, which allows us to meet each scholar's individual needs. Graduate scholars benefit from considerable personal attention in the laboratory to support their training and professional development.
janelia7_blocks-janelia7_tertiary_menu | block
janelia7_blocks-janelia7_block_right_hand_rail | block
Featured Student: Zhihao Zheng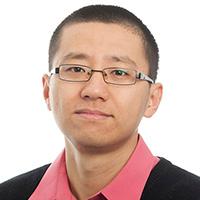 1. Tell us about yourself.
I am a graduate student in the Janelia-Johns Hopkins Joint Graduate Program, currently working in Davi Bock's lab. I studied medicine during my undergraduate years in China, and after graduating with a degree in Medicine, I stayed at the university to study signal transduction in cultured neurons. After joining Davi's lab, I started working with mouse cortex, and later switched to fly. I've enjoyed getting to study such a variety of subjects—from human to cultured neurons to mouse to fly. Aside from science, I have a family- my beloved and dedicated wife and our two adorable children. I do not have time for anything else other than my family and science, but I am satisfied.
2. What brought you to Janelia?
During my first few weeks in the Johns Hopkins University's Neuroscience Graduate Program, I heard about Janelia's Joint Graduate Program with JHU. At the student recruitment event, Davi described his research plan, which was to perform a large-scale electron microscopy (EM) imaging of mouse brain tissue followed by the reconstruction of physiologically characterized neurons and their connectivity within the EM-imaged volume. Once I heard Davi's plan, I immediately knew that was what I wanted to do for my PhD. I was attracted to the prospect of combining network connectivity of neurons and neural functions in a single brain volume. Later, we switched to flies with the same goal of relating circuit structure to functions. This goal could be achieved thanks to the stereotypy of fly neurons. Better yet, in flies we can image the whole brain!
3. What research projects are you working on?
My current research is focused on the connectivity structure of olfactory inputs in Drosophila. Olfaction plays a critical role in some of the most important animal behaviors, including reproduction, feeding, and escaping from natural predators. A better understanding of the connectivity between successive layers of the olfactory system will provide insight into how the olfactory information is transformed from the initial detection to perception and learning. Our current approach is to analyze neural circuits reconstructed from a whole fly brain EM dataset. I acquired the majority of the dataset with the motivation that it will enable the study of network structure of neural connectivity in a comprehensive manner. It is also nice to see the dataset is now being used by many other labs in the fly research community.
4. What is your favorite memory at Janelia?
I enjoyed intense scientific discussions with Davi in his office.
5.What advice do you have for someone interested in doing research at Janelia?
Janelia is a place where you can do high-impact and highly collaborative projects that are infeasible in a traditional academic research lab. You should be prepared to take advantage of Janelia's collaborative environment, especially the close collaboration across tool-builders (microscope, dyes, and software to name a few), biologists, and theorists.