node_title | node_title
node:field_slogan | entity_field
Don't just study great science. Live it. Take advantage of an exceptional opportunity to experience the benefits of working in the world-class research environment of Janelia and at The Johns Hopkins University.
node_body | node_body
The Janelia Joint Graduate Program is a fully-funded, collaborative PhD program for independent, committed graduate scholars in partnership with The Johns Hopkins University.
Graduate scholars in the program spend their first year at the partner university and then reside at Janelia for the remaining years of the program to conduct their thesis research. Degrees are granted by Johns Hopkins. Scholars have two supervisors, one at Janelia and the other at Johns Hopkins.
Graduate scholars conduct research in the following fields:
Behavioral & Systems Neuroscience
Cellular & Molecular Neuroscience
Evolution & Genetics
Instrumentation & Computational Tool Development
Neuronal Cell Biology
Optical Physics & Imaging
Structural Biology & Biochemistry
Theory & Computational Neuroscience
The program is intentionally small, which allows us to meet each scholar's individual needs. Graduate scholars benefit from considerable personal attention in the laboratory to support their training and professional development.
janelia7_blocks-janelia7_tertiary_menu | block
janelia7_blocks-janelia7_block_right_hand_rail | block
We are currently not accepting applications. The application system will reopen in fall 2017.
Featured Student: Jack Etheredge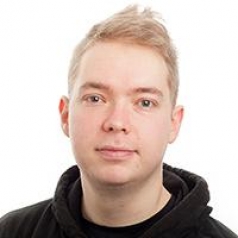 1. Tell us about yourself
I will be graduating soon from the former Cambridge-Janelia program. I received a BS/MS from Emory University. I worked in a lab at Emory that studied inner ear planar cell polarity development in mice. I am passionate about developmental biology, whereas most of the scientists at Janelia are interested in neuronal circuits and behavior. Because I am interested in so many aspects of science, I have to constantly remind myself that I am a single person and must prioritize projects at the very peak of my interest. I enjoy reading and writing fiction, cartooning, cooking, and weight lifting when I can.

2. What brought you to Janelia?
I originally came for the summer undergraduate program. Members of the lab I worked in at Emory during undergrad suggested I look into the program because Chonnettia Jones and Kevin Moses, who had both previously worked at Emory, had taken positions at Janelia and had very positive things to say. I was interested in development and stem cells and found Jim Truman's papers on stem cell sub-lineages ("hemilineages") to be really intriguing. I liked the idea of cataloging the diversity in the nervous system and determining how that diversity is generated during development.

3. What research projects are you working on?
I was able to explore a few different things during graduate school, but the projects that made it into my thesis were both built around RNA-seq of hemilineages. The GAL4 Drosophila collections generated at Janelia and Vienna allowed me to get relatively pure samples for individual hemilienages. This allowed me to determine combinatorially and uniquely expressed genes that encode the identity of the immature neurons. Additionally, a time series was generated for a single hemilineage that undergoes morphological changes when metamorphosis is prevented in the animals.

4. What advice do you have for someone interested in doing research at Janelia?
Leverage the unique aspects of Janelia in your favor. There are a lot of shared resources that can be used to do great research faster, so you're served by knowing what they are and discussing them with your PI. It's essential to be self-motivated and self-regulated. Have a plan that is frequently revisited with your PI and committee about getting to publication. Struggling is okay, but science doesn't occur in a bubble. Get help from post-docs and PIs both internal and external. Finally, take a day off sometimes to have fun and relieve stress. Exercise in particular can keep you grounded and remind you being a complete person doesn't end in the lab.