node_title | node_title
node:field_slogan | entity_field
Don't just study great science. Live it. Take advantage of an exceptional opportunity to experience the benefits of working in the world-class research environment of Janelia and at The Johns Hopkins University.
node_body | node_body
The Janelia Joint Graduate Program is a fully-funded, collaborative PhD program for independent, committed graduate scholars in partnership with The Johns Hopkins University.
Graduate scholars in the program spend their first year at the partner university and then reside at Janelia for the remaining years of the program to conduct their thesis research. Degrees are granted by Johns Hopkins. Scholars have two supervisors, one at Janelia and the other at Johns Hopkins.
Graduate scholars conduct research in the following fields:
Behavioral & Systems Neuroscience
Cellular & Molecular Neuroscience
Evolution & Genetics
Instrumentation & Computational Tool Development
Neuronal Cell Biology
Optical Physics & Imaging
Structural Biology & Biochemistry
Theory & Computational Neuroscience
The program is intentionally small, which allows us to meet each scholar's individual needs. Graduate scholars benefit from considerable personal attention in the laboratory to support their training and professional development.
If you have any questions about the program, the application or the application process, please email Erik Snapp at snappe@janelia.hhmi.org
janelia7_blocks-janelia7_tertiary_menu | block
janelia7_blocks-janelia7_block_right_hand_rail | block
Featured Student: Amrita Singh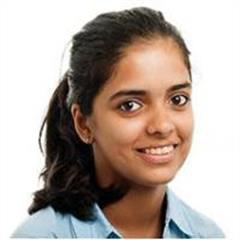 1. Tell us about yourself.
I was born and raised in Mumbai, India. I attended the Indian Institute of Technology of Kanpur for my undergraduate degree in Biological Sciences and Bio-Engineering. I was surrounded by many engineers, but no scientists, and I realized that I wanted to do basic science. I had read some popular science books about neuroscience that I found really fascinating and wanted to pursue this further. I did two research internships during my undergrad that pointed me in the direction of neuroscience; one at the University of Wisconsin Madison and the other was here at a Janelia in the Undergraduate Scholars Program in Karel Svoboda's lab. I loved my experience in the JUS summer program. It was one of the best summers I've ever had. It was a lot of fun getting to meet all of these undergraduates from all over the world that were also interested in neuroscience. I made some really good friends, many of whom I am still in touch with today. This experience led me to apply to the joint graduate program with Janelia and Johns Hopkins University. I am now in my fifth year in Karel Svoboda's lab.
2. What brought you to Janelia?
I found Janelia's internship through a random Google search for neuroscience summer programs. I thought the website looked very cool because of the kind of science that was advertised. It was very much aligned with my interests. I particularly liked the focus and emphasis on questions about how healthy brains work. There's a lot of interest in diseased brains in neuroscience, and we tend to want to study when things go wrong. A lot of neuroscience is focused on medical applications and how we can help people who have problems. I was much more excited and curious about how normal brains work and the mystery behind how things work. I was really excited to see that Janelia advertised that strongly on their website. The work the labs were doing looked very interesting, and the research was cutting edge. When I got here, I realized that this place is extremely special in that it's very different from other research institutes. Janelia felt more like industry than a typical college or university and is optimized to do good research. That's the main goal and focus. Everything is based on that goal, from the architecture and the social structures in the lab to the cutting-edge equipment. I also really enjoyed the project I worked on and had a wonderful mentor who helped guide me in the work that I was doing that summer.
3. What research projects are you working on?
I'm using voltage imaging and retrospective multiplexed fluorescence in situ hybridization (FISH) to understand the relationship between activity and gene expression of interneurons in motor cortex. The big question that I'm trying to partially answer in my project is "How does the activity neurons relate to gene expression?" We know that all cells in the body express a certain subset of genes from our genome, and the properties of different cells in our body are determined to a large extent by which genes are expressed and how much of each gene is expressed. We've recently made a lot of progress in measuring gene expression levels in numerous neurons in the brain. Those of us in the field have realized that the gene expression profiles are much more diverse within the brain than we previously thought. Based on the kinds of expressed genes, there appear to be lots of classes and subclasses of neurons, more than anyone anticipated. A natural question that arises from these studies is, are these differences in gene expression meaningful, or are the differences just random and don't impact neuron function? What I'm trying to do is measure the activity of neurons in the brain while the animal performs some behavior to understand the role of those neurons in the behavior and then later measure gene expression patterns in the same neurons. This has been challenging. Very few studies have actually done this because it's difficult to keep track of the neurons that you were functionally imaging in vivo and then track them ex vivo, where you can measure gene expression. This has been a big step in my project, and I'm now starting to successfully make these two different types of measurements in the same neurons. The goal is to analyze each of these data streams carefully to compare them and look for covariance. We want to see whether the activity varies in a way that's consistent with the gene expression. When looking at the neural activity of lots of neurons, we can see that some of the neurons are active together, groups of subsets of co-active neurons. The neurons come together in different ways to do things; for example, to make a movement, there is a subset of neurons that is active together, that enables you to make the movement. We would then look at the neuronal activity and find these groups of neurons that go together, look at the gene expression and find groups of neurons that express a similar gene. We want to look at whether these groupings are similar to each other or not, which would tell us if the categorization by gene expression is meaningful in terms of neural activity.
4. What is your favorite memory at Janelia?
I have several, but one of them would have to be the first time I had a successful animal surgery, and the animal didn't die. That was a big achievement for me because I had tried for a long time, and it hadn't been working, but this time I was actually able to look at the animal under the microscope and see some neurons light up, which was really exciting. I've also had many great social experiences, fun gatherings in the Studio Commons, and I got to see my advisor run in the Donut Dash 5k, where he had to eat three donuts and run around the lake, which was really funny. I have a lot of great memories here.
5.What advice do you have for someone interested in doing research at Janelia?
Before you decide whether or not to do your research here, get to know Janelia in terms of the science, the culture, and social environment. I think all three are very different from almost anywhere else. You should know whether or not it's a good fit for you. For instance, since there are so few graduate students, it can be pretty difficult to get a foothold in the first couple of years, as everyone around you is more experienced by several years. I think the best thing is get the know the environment and talk to as many people as you can about what it's like and what science they do to help you figure out if you would enjoy being part of Janelia.