node_title | node_title
node_body | node_body
Visa
Graduate student visas are sponsored by Johns Hopkins University (JHU), not by Janelia. Please contact Beth Wood Roig (bwoodro1@jhmi.edu) with any questions.
Additional Degree Requirements
Degrees are granted by the The Johns Hopkins University. Graduate scholars spend one year in Baltimore at Johns Hopkins and the remaining years doing research in a Janelia laboratory. The thesis defense takes place at the partner institution.
The Johns Hopkins University: Graduate scholars must complete an ethics course, several courses in neural cognition, and 6 elective courses. There are additional journal club and seminar requirements, which can be fulfilled while in residence at Janelia.
TOEFL/ IELTS Requirements
The Johns Hopkins University
Test of English as a Foreign Language (TOEFL) or International English Language Testing System (IELTS) scores are required for international graduate scholars. The TOEFL requirement can be waived for applicants who have completed their degree (or are currently enrolled in a degree program) at a university within the U.S. or U.K.
Institution Code: 5316
Financial Support and Benefits
Graduate scholars are fully supported financially by their labs & the graduate program during their research. The following information is for the 2023/2024 Academic Year.
While in the first year of the joint program at The Johns Hopkins University:
Stipend equivalent to the first year Johns Hopkins stipend
Health insurance, plus other benefits supplied by Johns Hopkins
Payment of all travel to Janelia as required
While at Janelia:
Receive a Janelia Graduate Scholar Stipend
Health insurance, plus other benefits.
Payment of all programmatic travel costs.
Travel to scientific conferences and courses.
janelia7_blocks-janelia7_tertiary_menu | block
janelia7_blocks-janelia7_block_right_hand_rail | block
Javier Valdes Aleman, Former Graduate Scholar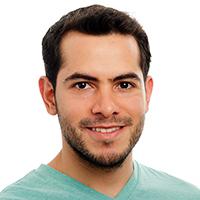 1. Tell us about yourself
I am a 4th year PhD student in the joint program with the University of Cambridge and Janelia. I work under the supervision of Marta Zlatic from Janelia and Matthias Landgraf from Cambridge. Before coming to Janelia, I earned my undergraduate degree in Biotechnology from the Universidad Politecnica del Estado de Morelos in Mexico. I also worked at the National Institute of Public Health in Mexico, developing a strategy to produce recombinant antibodies. My hobbies include traveling, cooking and fishkeeping.
2. What brought you to Janelia?
I first came to Janelia through the Janelia Undergraduate Scholar summer program. I was about to finish my undergraduate degree and wanted to expand my research experience, so I decided to branch out from biotechnology to neuroscience. During that summer, I was offered a position as a lab technician and later I decided to join the graduate program.
3. What research projects are you working on?
I am currently studying synaptic selectivity in Drosophila.
Neural circuits are formed with strikingly reproducible connections across individuals. Specific connections between neurons are crucial for the proper function of the circuit. I would like to understand the mechanisms neurons use to select their synaptic partners during development. I use live imaging, connectomics, behavioral assays and functional imaging to study how neurons connect to each other in Drosophila.
4. What advice do you have for someone interested in doing research at Janelia?
Janelia is an exciting place to do research. We have experts from all over the world working on many interesting aspects of neuroscience and imaging technology. I would suggest you read about the specific topics Janelia researchers are working on and contact the group leader with whom you have common interests. Send her/him an email expressing your interest. Most group leaders will be happy to tell you about their research and let you know about the possibility of working with them.