node_title | node_title
node_body | node_body
Janelia is a highly collaborative setting where biologists routinely work alongside computer scientists, engineers, physicists, and chemists. This enables undergraduate scholars to benefit from an unparalleled interdisciplinary experience. Since the program began in 2007, more than 200 students have participated in the program and 12 have gone on to join the Janelia Joint Graduate Program.

Research Program
Previous scholars have worked on a range of projects in Janelia labs, including identifying the neurons that control feeding behavior in fruit flies, designing better labeling molecules for use with sophisticated microscopy, recording salamander retinal ganglion cell output to learn about motion tracking, and developing computer programs for automated image analysis.
Janelia undergraduate scholars have the opportunity to investigate important research questions using state-of-the-art technologies such as:
in vitro and in vivo single molecule imaging
video-based tools for quantitative analysis
voltage biosensors and Neuropixels probes
computational modeling
optogenetics
the annotated fruit fly brain connectome and our extensive collection of Gal4 driver lines
high speed and high content fluorescence microscopes
Program Details
There will not be a Summer 2023 Janelia Undergraduate Scholars Program.
The Janelia Undergraduate Scholars Program runs from May to August. Students are required to spend a full 10 weeks at Janelia, but we are flexible on the specific start and end dates to accommodate differing academic calendars at universities. Scholars must be able to start the program before the end of June.
International Students
International students are eligible and visas will be supported.
Accommodations and Support
All Janelia undergraduate scholars live together on campus. All living expenses including housing, food, and travel to and from Janelia are covered by the program. Students also receive a stipend of $5,000 for the 10-week period.
janelia7_blocks-janelia7_tertiary_menu | block
janelia7_blocks-janelia7_block_right_hand_rail | block
Hersh Bhargava, Former Undergraduate Scholar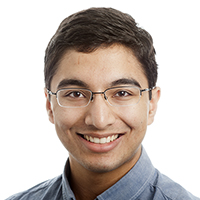 1. Tell us about yourself.
I grew up in Maine and New Hampshire, and am currently a third-year undergrad studying biochemistry at the University of California, Berkeley. My passion is working on problems in the life sciences whose solutions have the potential to improve peoples' lives, which is largely the reason I ended up in research. In addition to biology, I have a background in computer science, which I have found to be an excellent tool for problem solving. Outside the lab, I enjoy rock climbing, drinking coffee, and playing the violin.
2. What brought you to Janelia?
I wanted to experience unique perspectives and approaches to scientific research. Janelia stood out as offering both an incredible culture of collaboration and a philosophy of "bold, risky science," which resonated with my past experiences in science and in life. Also, I was interested to work somewhere that focuses largely on fields other than my own—I am neither a neuroscientist nor a microscopist, but I was eager to collaborate with and learn from scientists in diverse fields.
3. What research projects are you working on?
Currently, I spend my time on two projects with two brilliant groups of people. At Berkeley, I am working on a project in the Hurley Lab to elucidate the structure and function of a protein complex that is essential to the regulation of gene transcription in humans, and also has ties to a number of disease pathways. In addition, I am collaborating with the University of Pennsylvania Perelman School of Medicine Pathology Department and the Case Western Reserve University Center for Computational Imaging and Personalized Diagnostics (CCIPD) to apply techniques in computer vision and machine learning to quantitatively analyze prostate tumor samples with the goal of improving the specificity and accuracy of diagnostic and prognostic models.
4. What advice do you have for someone interested in doing research at Janelia?
I think it's important to understand what makes Janelia unique (it is like no other place I have even heard of), and more importantly to try to get an idea of how that uniqueness translates to the success of its scientists. Read about the place, read the publications it has produced, and try to talk to people who have spent time there. Then, with this understanding, make a case describing how you can contribute to and benefit from Janelia.