node:body | entity_field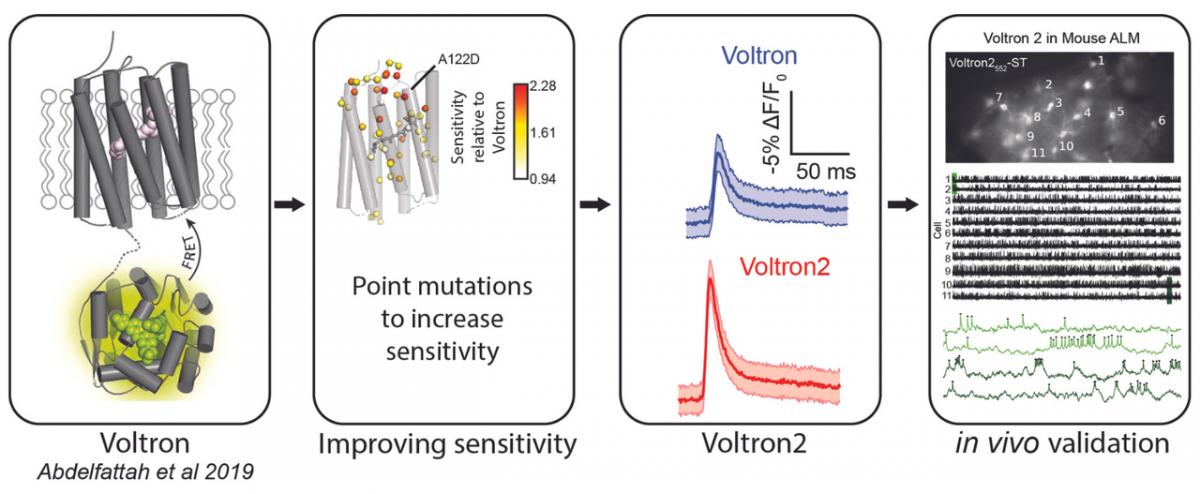 The latest version of a tool named after a 1980s cartoon robot can now detect small fluctuations in signals passing through neurons, enabling greater insight into how brain cells communicate. The new Voltron2, developed by the Schreiter Lab & the GENIE Project Team, is detailed in a new paper in the journal Neuron.
Voltron indicators are genetically encoded tools developed at Janelia that enable scientists to directly observe changes in voltage in large populations of neurons as they communicate.
The indicator is made up of a specially engineered protein that responds to the change in voltage that occurs when specific neurons switch on. A Janelia-developed fluorescent dye attached to the protein lights up, allowing scientists to visualize the voltage change.
Voltron allows scientists to image large populations of neurons simultaneously, and is brighter and lasts longer than similar sensors, enabling researchers to correlate animal behavior with brain activity over longer periods of time.
Voltron2, the newest version of the indicator, includes a mutation that makes it more sensitive to the big spikes that occur as signals leave neurons and enables it to pick up sub-threshold signals, the smaller signals that occur as signals enter neurons.
Monitoring these smaller, sub-threshold signals, in addition to the big spikes, allows scientists to better understand the underlying computation the cell is performing, giving a more complete picture of the communication process between neurons.
Janelia's GENIE Project Team used a pipeline they developed for screening calcium sensors to test different mutations of the Voltron protein to come up with the new version of the sensor. Collaborating labs helped test Voltron2 in fruit flies, zebrafish and mice.
The next step for the team is to optimize Voltron, and the microscopes and data analysis tools scientists use alongside it, so more scientists around the world can use the indicator for neuroscience research.
###
Citation:
Ahmed S. Abdelfattah, Jihong Zheng, Amrita Singh, Yi-Chieh Huang, Daniel Reep, Getahun Tsegaye, Arthur Tsang, Benjamin J. Arthur, Monika Rehorova, Carl V.L. Olson, Yichun Shuai, Lixia Zhang, Tian-Ming Fu, Daniel E. Milkie, Maria V. Moya, Timothy D. Weber, Andrew L. Lemire, Christopher A. Baker, Natalie Falco, Qinsi Zheng, Jonathan B. Grimm, Mighten C. Yip, Deepika Walpita, Martin Chase, Luke Campagnola, Gabe J. Murphy, Allan M. Wong, Craig R. Forest, Jerome Mertz, Michael N. Economo, Glenn C. Turner, Minoru Koyama, Bei-Jung Lin, Eric Betzig, Ondrej Novak, Luke D. Lavis, Karel Svoboda, Wyatt Korff, Tsai-Wen Chen, Eric R. Schreiter, Jeremy P. Hasseman, Ilya Kolb. "Sensitivity optimization of a rhodopsin-based fluorescent voltage indicator." Neuron. Published April 3, 2023. DOI: 10.1016/j.neuron.2023.03.009
addtoany-addtoany_button | block
janelia7_blocks-janelia7_biblio_authors | block