node:body | entity_field
Application deadlines vary by meeting. See descriptions for more details.
custom_misc-custom_misc_featured_conferences | block
Leading Edge Symposium
May 16 - 17, 2022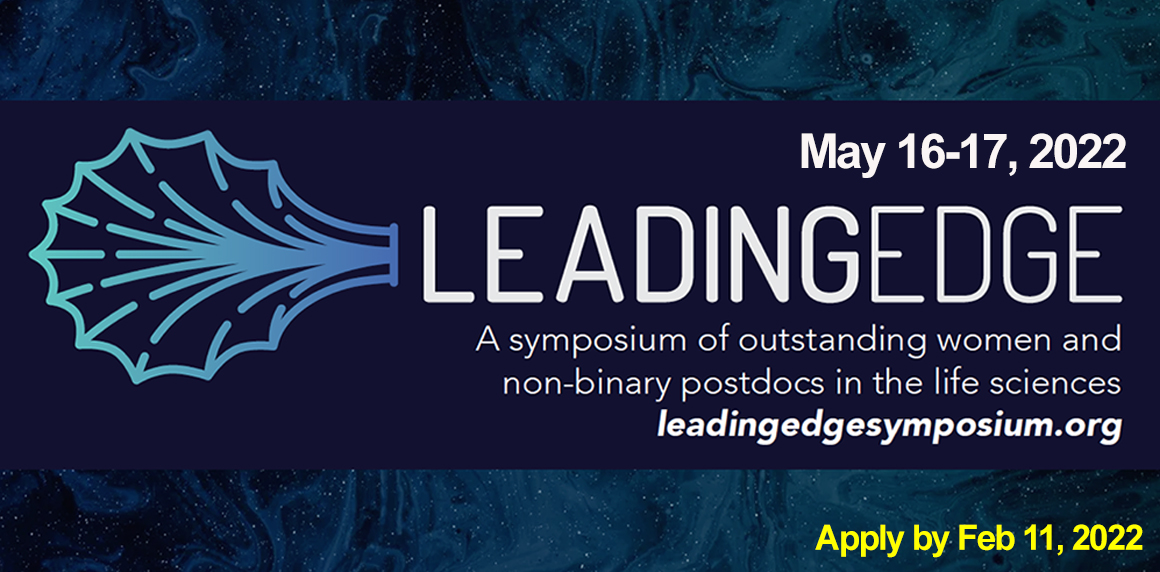 With the goal of improving gender diversity of life science faculty, the Leading Edge Symposium provides outstanding women and non-binary postdocs in biomedical research a platform to share their work and connect with one another, both professionally and personally. Attendees will give short research talks, participate in lively discussions and network with both junior and senior investigators. A panel of carefully selected world leaders in biomedical research will provide mentorship and career development training, and representatives from institutions interested in recruiting and supporting a diverse faculty will be invited.
Visit leadingedgesymposium.org for more details!
View Full Details
Imaging Mouse Development
September 18 - 21, 2022
For many years, our understanding of early mammalian development has been limited by the inability to visualize development as it happens. Technical limitations, physical inaccessibility, and complex computational problems have all hindered our ability to answer long-standing questions in the field of mouse development. Recent advances in cutting-edge light microscopy and computational tools have catapulted the field forward and presented us with new avenues and opportunities to address outstanding questions.
The third iteration of this workshop, which alternates between Janelia and EMBL Heidelberg, brings together members of the mouse developmental community with experts in the latest imaging technologies, computational image analysis and more broadly quantitative biology fields, with the goal of raising awareness about available tools and techniques, unresolved questions or challenges, while fostering discussions on how best to utilize these tools and what tools are still needed. The intimate nature of Janelia meetings fosters an interactive and collaborative environment, and we look forward to open conversations on advancing this small (but growing) field, how best to analyze and share large datasets and how to utilize the massive amount of information new imaging systems will provide.
Applications are closed
This is intended as an in-person onsite meeting at Janelia Research Campus. If there are any changes to this plan due to the Covid situation, we will announce that as soon as possible.
View Full Details
Structure and Function of the Insect Central Complex
October 9 - 12, 2022
Organized by Hannah Haberkern, Vivek Jayaraman, Basil el Jundi, and Katherine Nagel, this will be the sixth in a series of Janelia-hosted meetings on this fascinating and highly conserved insect brain region. Much progress has been made in recent years towards understanding the anatomical structure, dynamics, and behavioral involvement of central complex circuitry. We aim to facilitate ongoing discoveries by bringing together researchers utilizing a variety of experimental and theoretical approaches in a range of species. As with previous editions, this small conference will incorporate vertebrate researchers, roboticists, theorists, and tool builders whose work is relevant to the study of the central complex. The meeting will feature a series of thematically organized sessions comprised mainly of short talks selected from submitted abstracts. Emphasis will be placed on featuring unpublished work from both junior and senior researchers.
Note: This is intended as an in-person onsite meeting at Janelia. If there are any changes to this plan due to the Covid situation, we will announce that as soon as possible.
Application deadline

extended to July 15, 2022

(11:59 p.m. EST)
View Full Details
publications_landing_pages | views
Receive updates on Janelia's programs and events, including conferences and workshops, public lectures, and educational and career opportunities.
janelia7_blocks-janelia7_featured_blocks | block
Past Conferences
Janelia has hosted conferences and workshops since 2007.
janelia7_blocks-janelia7_program_administration | block