node_title | node_title
Leading Edge Symposium 2023
addthis-addthis_block | block
custom_misc-custom_misc_format_date | block
node:field_content_summary | entity_field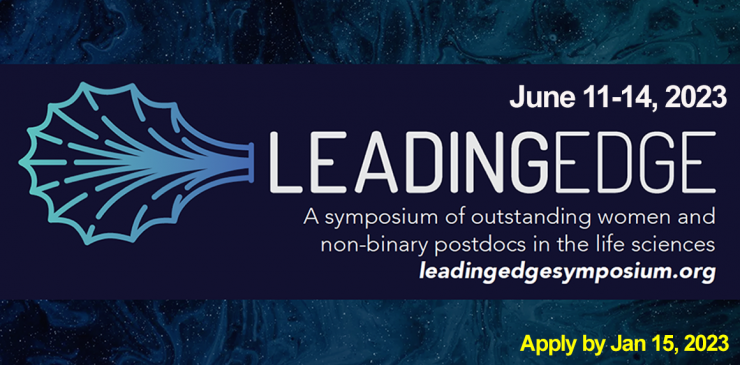 With the goal of improving gender diversity of life science faculty, the Leading Edge Symposium provides outstanding women and non-binary postdocs in biomedical research a platform to share their work and connect with one another, both professionally and personally.
Attendees will give short research talks, participate in lively discussions and network with both junior and senior investigators. A panel of carefully selected world leaders in biomedical research will provide mentorship and career development training, and representatives from institutions eager to recruit and support a diverse faculty will be invited to join.
Leading Edge Fellows join a community of postdocs and assistant professors in the biomedical sciences. The Leading Edge community communicates through a dedicated Slack, as well as monthly Zoom meet-ups. Career development panels occur throughout the year by Zoom (see the Panels page for past programming).
Fellows also present their work during an annual symposium hosted by HHMI's Janelia Research Campus. All costs are covered for speakers (travel, food, accommodation, childcare). Due to the COVID-19 pandemic, the 2020, 2021, and 2022 symposia occurred virtually. We are excited that the 2023 Leading Edge Symposium will occur in-person at Janelia Research Campus from June 11-14! Recordings of the Fellow presentations are made available after the symposium on YouTube.
Visit leadingedgesymposium.org for more details.
Eligibility: We welcome applications from postdoctoral associates who plan to go on the job market in fall 2023 or later. Those who plan to apply for more than 3 faculty positions by May 2023 are not eligible.
publications_landing_pages | views
Receive updates on Janelia's programs and events, including conferences and workshops, public lectures, and educational and career opportunities.
janelia7_blocks-janelia7_featured_blocks | block
A directory of women and gender-minority postdocs and early Assistant Professors. View it HERE.
janelia7_blocks-janelia7_block_right_hand_rail | block
addthis-addthis_block | block